Venezuela, home to over 30 million residents, is also a country rich in beautiful landscapes, beaches, and diverse wildlife in the world. From its numerous magnificent waterfalls, stunning offshore islands up to the colorful and lively cities, there is no denying that Venezuela has too many beautiful places to offer. We have listed down the top 10 most beautiful places to visit in Venezuela. Take a look and plan your next trip to this awesome and tropical country in Latin America.
Angel falls
Former name as Kerepakupai-Meru in 2009, Angel Falls boasts its waterfalls which flawlessly drops from a table top mountain with over 1000 meters in height. Angel falls is located in Canaima National Park, a savannah region of Gran Sabana, the southwest of the country. The park can only be accessible by air and is home to different diverse fauna including giant otter, giant anteater plus its indigenous people called as Pemon.
Coro and Sand Dunes
Venezuela's first colonies are located In Coro. Spanish and Dutch architectural designs can still be seen up to this day in the said location. Sand dunes, located between Paraguana Peninsula and Coro reach up to 40 meters in height. The sand dunes is a habitat to different Fiona and fauna including cactus, lizards, and foxes.
Mochima National Park
Mochima national Park is famous for its different water activities such as swimming, snorkelling, scuba diving and dolphin spotting. Mochima's little village and Puerto La Cruz' big city are two of the most popular jumping off points for boat trips among Mochima National Park's countless islands.
Morrocoy National Park
Known for its white sand beaches plus its diverse coral reefs. The park is located on the coast for about a 2-hour drive the  west of Caracas. One of the famous activity here is diving and bird sighting including osprey, parrots, flamingos and scarlet ibis.
Mt. Roraima
Mount Roraima is located in a table top mountain with an elevation of more than 2,800 meters. It is also the point of where Brazil and Guyana join country.  Its plateau is inspired by Sir Arthur Conan Doyle's 1912 fictional novel entitled "The Lost World".
Merida Cable Car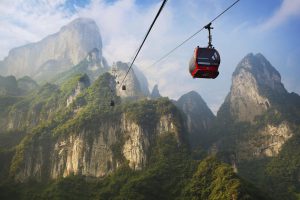 There are many cable cars in the world. So what is special about Venezuela's Merida Cable Car? It is the longest and highest cable car in the world. With more than 12 km long and soars more than 4,700 meters in the air, Merida Cable Car is simply one of the many things you should try when visiting Venezuela. The cable car stops along the way so that the visitors can get out and do some trekking or simply enjoy the aerial view 15,600 feet above the ground.
Choroni
One of Venezuela's best Carribean beaches. It is a good base for birds and plants alike especially for wildlife explorers who wish to explore the lowland jungles and cloud forest of Henri Pittier National Park. More than 500 species of birds and 200 types of butterflies can be found here in this magnificent place.
Los Roques Archipelago National Park
The park is created in 1972 in order to protect the marine ecosystem of Venezuela. Most of the coral reefs here are almost untouched which makes it more beautiful to be seen underwater. Its crystalline warm water is perfect for diving, sailing, and even fishing. You can also try to visit its main island called Gran Roque which offers small villa style hotels.
Los Llanos
Also known as "The Plains". Los Llanos is a grassland that runs from Venezuela up to Columbia. It is perfect for birdwatcher's paradise. Los Llanos is sometimes termed as Serengeti of South America because it is the place where one can see wildlife during the dry season. Jaguars, anacondas, and caimans can also be found here.
Isla Margarita or Margarita island
The largest island in the northern coast of Venezuela. Beachcombing is one of the popular attractions here. Other well-known activities that can be found here are wind and kite surfing and shopping.
There are many beautiful places to visit in Venezuela. You just have to choose from its wide array of stunning and magnificent places. Have you decided which place to visit yet?